Latest posts by Dileep Thekkethil
(see all)
If you own a business online, there's no way that the term 'content marketing' has escaped your notice. Content marketing seems to have become a hot buzzword in the business world currently, and it's for a good reason too.
This useful Search Engine Optimization (SEO) strategy owes its success to the fact that it drives insane organic traffic to your website without spending too much of your allotted budget. Moreover, content marketing helps drive in the Gen-Z crowd, who have, time and again, proven their displeasure for pop-up ads on websites.
However, if you are a small business looking to grow, it's not too late to venture into the world of content marketing. After all, you want to drive up your web traffic and, consequently, your revenue. In this article, we will discuss the nuances of content marketing and a comprehensive content marketing formula that can help businesses increase their traffic numbers.
What Is Content Marketing?
Content marketing, simply put, is the generation of content that is relevant, entertaining, compelling, and valuable for your targeted audience. An integral part of any website's SEO efforts, content marketing involves acquiring and retaining customers with the help of engaging content.
But how do businesses use content marketing in their daily efforts to increase web traffic, and therefore, generate conversions? Well, the primary goals that content marketing helps companies achieve are:
Lead generation
Increasing brand awareness
Thought leadership
Engagement
Higher conversions
From a pure SEO perspective, content marketing supplements a company's SEO strategy by allowing more inbound links, which in turn increases your site's domain authority. Moreover, it encourages email signups, especially if you have unique content to offer your target audience, which can be in the form of special reports or podcasts.
However, did you know that more than 60 percent of business owners do not have a stable content marketing strategy for their company? Companies who do have a content marketing formula to follow, hence, reap the profits of their endeavors with both hands.
What Is A Content Marketing Strategy?
A content marketing strategy is defined as the process of planning, creating, organizing, and publishing an organization's content and data. It is incredibly critical for any company's basic survival because it leads to effective information management. And in this digital era, a viable content marketing formula is the only thing that paves the way for thriving business operations.
A successful content marketing formula helps a company improve its web conversions by allowing customers to access information that can help them learn and educate themselves. Click To Tweet This small effort helps the target audience build trust for your brand, which in turn, encourages conversions for your business.
How To Create A Content Marketing Formula That Works?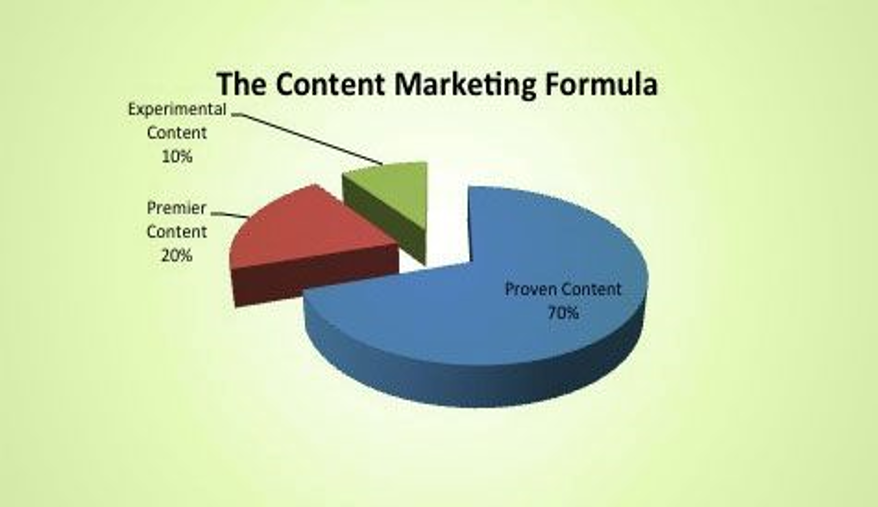 (Source: pinterest.com)
So far, we have understood that having a solid content marketing strategy is vital for any business to survive in this digital era. But how does a business owner go about creating a content marketing formula that actually works for the company?
Well, fret not, because by merely following a few small steps, you can create a content marketing strategy that works wonders for your business. The basic rules to follow while creating a successful content strategy are:
Define your goals clearly: The first rule of creating a content strategy is to define the purpose of your content clearly. Decide whether your content will generate brand awareness, leads, convert users, attract prior customers, improve your search engine rankings, or a whole different thing altogether. This way, you will be able to focus on specific steps that will be peculiar to the end goal you select.
Research your audience with precaution: Your content formula can only work when you know who your audience is and what your customers are searching for. This can be achieved by enabling Google Analytics to find out the content your viewers engage with, and by reviewing which social platforms are more popular for sharing on content pages.
Do not lose focus of your niche: Unfortunately, the internet now contains way more irrelevant data than it should. In fact, the web is filled with content that doesn't provide any real value. Therefore, the only way to brave this sea of junk content is to make fresh and unique content, which is also relevant for your customers. This way, you will retain quality users and gain new ones along the way.
Keep a constant eye on the results: Measuring the results of your content marketing efforts from time to time is an essential aspect of creating a successful content marketing strategy. There is, after all, no point in churning out content day after day without analyzing what your audience liked and didn't like, and why.
Listen to what your customers have to say: While data analysis forms the backbone of your strategy analysis endeavors, it only gives you a bunch of numbers to work with. Hearing the reality from the horse's mouth, your customers, helps you gather valuable data and show them that their opinion matters.
Amplify your content in the best way you can: Having a sound content strategy and a targeted content creation plan is crucial. However, the most critical part of a successful content strategy is content amplification. Businesses need to identify all the available resources and harness the power of their employees, customers, and influencers to really amplify content.
Now that you know how to create a successful content marketing strategy, you'll soon be able to develop your own. But just to get the ball rolling, here are some steps for creating a unique and successful content marketing formula. Consider it a guide that will increase your organic traffic numbers and take your business to the next level.
The 6-Step Content Marketing Formula That Can Increase Your Organic Traffic
Step 1: Pen Down Killer Headlines
Writing a stellar headline goes a long way in increasing your click-through rates getting your content shared across platforms. Some of the most popular headlines tend to start with an impressive number or a solid adjective. Having a good headline ensures that your carefully written content gets the recognition it deserves, while also garnering a greater audience base for future content.
Step 2: Keep A/B Testing Your Content From Time To Time
Running A/B tests on your company's website is an essential way of determining your business performance and, ultimately, the conversion rate. No matter the size of your company, even the slightest increase in your conversion rates could make a massive difference to your bottom line at the end of the financial year. A/B tests can further help you determine headlines and content types that work, which can prove useful in deciding your long-term content marketing strategy.
Step 3: Landing Page Optimization
One of the most critical aspects of a successful content marketing formula is optimizing your website's landing pages. A well-optimized landing page has the potential to give you sure-shot traffic numbers your business needs. Your homepage isn't the only page on your website that needs optimization. Usually, its the product or the blog pages which drive the most traffic to your business. Therefore, it is essential to optimize landing pages fully and get the best out of them. It'll increase their chances of ranking highly in SERPs, which will eventually translate into higher traffic numbers and conversions.
Step 4: Create An Exceptional Editorial Calendar
Before starting any content marketing campaign, it is essential to create an editorial calendar. Having the perfect editorial calendar can ensure that the business meets its end goal. Furthermore, it helps to keep an organized collection of blogs (and other forms of content) and see to it that you're not left squabbling around for ideas at the last minute. Having a dedicated calendar helps you keep track of important metrics like conversions, bounce rate, time on page, and social shares from your customers. Moreover, having a schedule allows you to surprise your users with future content that is going to be published, so they keep coming back to your blog.
Step 5: Keep An Eye Out For Competitors
While you have all the other aspects of your perfect content strategy going on in the background, don't forget to spy on your competitors from time to time. See what they've been up to and what's working for them. And the best part: you can do it without ever visiting their actual website. With the help of tools like BuzzSumo, SEMRush, Majestic, etc., you can generate ideas for your own content marketing campaigns, or even beat the competition at their own game.
Step 6: Keyword Research Is The Only Key To Survival
No business can deny benefitting from knowing what their audience actually wants. And keyword research helps companies precisely in this aspect. Ample keyword research, coupled with precise demographics data, can give you a good idea of your audience and what's on their mind. Google Trends and Google Analytics are two convenient tools that can help you monitor your audience's behavior. You can then use the data to generate relevant content for your customers and maximize your organic traffic numbers.
Bottom Line
You can surely make out now that creating a successful content marketing formula isn't exactly rocket science. Still, it can often get challenging to implement it all the way through. You might encounter several roadblocks along the way and go through tough times, but the trial and error process works out in the end. Once you have the perfect recipe for success, you will finally be able to see the kind of audience growth you've always dreamed of.
Once you see your audience base growing prominent, it'll automatically translate to an increase in customers, which is essentially the end goal of any profitable content strategy. The rise in sales volume as a consequence of your exhaustive marketing efforts will fundamentally improve your bottom line and generate awareness for your brand.
Interested in taking your business to the next level? Reach out to us through the form below and let's help transform your business into a sales machine!