Alright, I confess.
I'm a recovering black hat link building addict.
It was just so easy to identify which keywords I needed to rank to in order to improve the number of inquiries and sales. That sweet rich anchor text follow link, and then BOOM, rankings were up. Organic traffic was up, my clients were happy and I could sleep at night.
Once I threw my black hat in the bin and started to build real, earned links backed of creating and promoting quality content, I realized just how time consuming it was to do things in accordance with Google's guidelines.
Smaller companies and brands just starting out who have limited time and resources to invest in SEO are looking for the best bang for their buck in terms of optimization. While having a well optimized site and great content are a start, SEO experts all know that the holy grail for niche authority are backlinks.
Established brands already perceived on or offline as industry authorities don't have the same issues that smaller brands do when trying to scale their link building efforts. They can lean on the authority they already have to build links more effectively, or have some kind of link flywheel going from content that is already doing well.
What link building efforts are worthwhile?
When working with smaller brands who had a tight budget, I wanted to know what techniques actually had a good Return on Investment (ROI) in terms of the time invested per link earned so I could utilize the link building portion of their strategy as effectively as possible. There are several SEO or link building influencers like Brian Dean or Neil Patel (not to mention thousands of smaller influencers) promoting a range of different link building strategies that are 100% white hat and guaranteed to work.
I turned to the ever-generous SEO community to find out which of these techniques that professionals working in-house or at agencies were using to build links in a time efficient manner.
The techniques looked at were:
Link Reclamation
Guest Posting
Blogger Outreach
Un-linked Mentions
Skyscraper Technique
Broken Link Building
While there are a number of other creative link building strategies, the reasoning behind looking at the above 6 is due to their popularity in online blogs and with influencers and thought leaders large and small. Any 'how to build link' guide, whitepaper, vlog, blog or roundup post inevitably included most of these, so they were good starting points.
Where will digital marketers be investing their time?
Digital marketers were asked to identify which techniques they would be using for link building in their strategies. Guest posting and blogger outreach are some of the more popular methods with over 80% of marketers utilizing these as part of their link building techniques moving forward. These are two of the more popular options in SEO guides and advice articles, so it is not surprising to see marketers try to build links this way.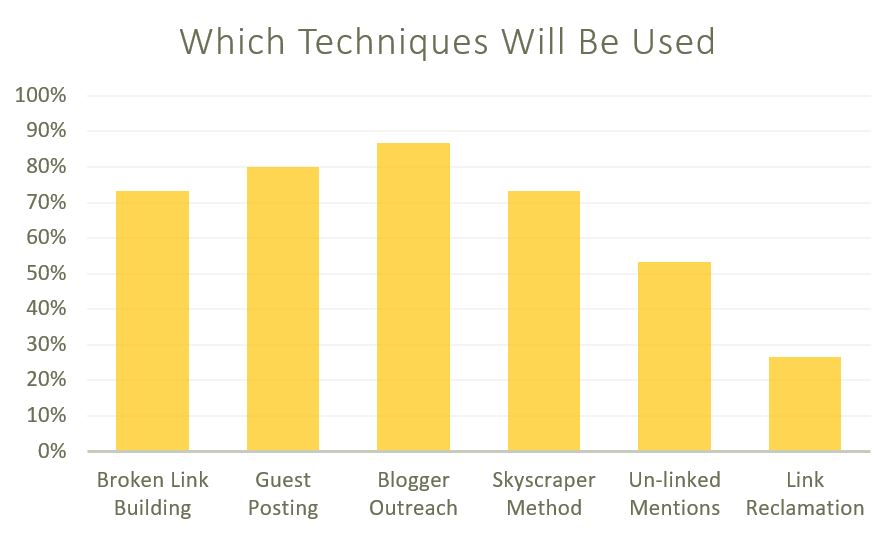 In the middle of the pack are the skyscraper method and broken link building. These methods both focus on value generation, and offering something of value is always going to be more effective and have more weight behind it than simply requesting a link. If website owners see that your content ranks highly for the niche keyword then they are more likely to link to it, and if you reach out to them to replace a link you are making their website experience better for their users.
Link reclamation was unusual to see at the bottom of the list as it is as sites like SEJ and Ahrefs promote it.
Which of these techniques are time efficient?
After finding out which techniques would be used, I asked them to be ranked (high, medium or low) to find out which were the most time efficient in terms of numbers of hours input to links gained.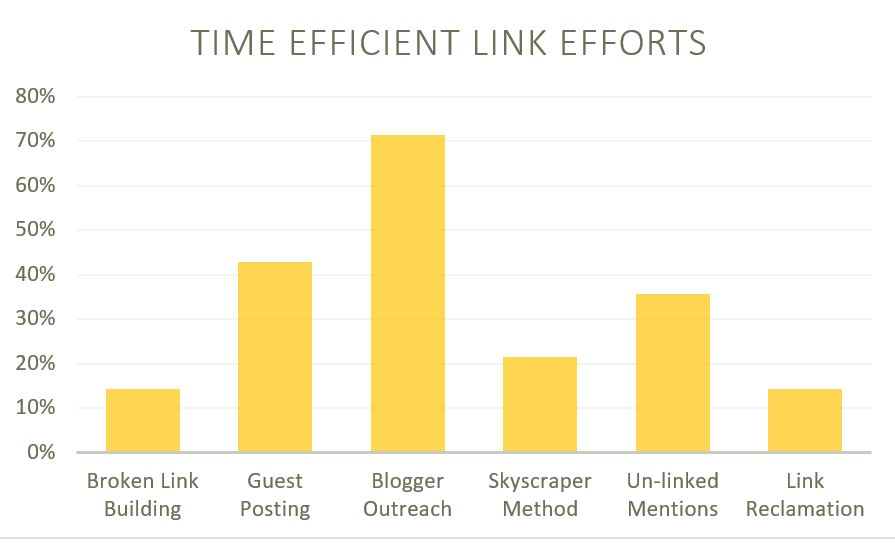 Blogger outreach was by far and away the most efficient performer. Over 70% of respondents voted this as 'highly efficient'. This matches up with being the most likely to be used as a strategy highlighting the efficiency of this technique means that it is earning a top spot in SEO and link builders' "must utilize" technique.
Guest posting was also one of the most time efficient link building efforts with over 40% of respondent voting this in the "highly efficient". This explains part of it's popularity as a method.
Digital marketers love to be efficient and highly optimized (unsurprisingly!) so methods that are time efficient are bound to be at the top of our 'to do' lists.
Unsurprisingly broken link building and link reclamation sat at the bottom of the pack. There is every chance that these links are gone due to the website not being maintained, the page gone or even the entire website being brought down. While broken link building in particular will be a method that marketers use, there isn't a lot of ROI with this.
The skyscraper method sitting middle of the pack seems to make sense. It can take a lot of time and resources to create amazing content that will rank above competitors' already strong content. while it might earn links, the time investment there is high as well.
Which aren't time efficient?
The skyscraper method appeared at the top of "least time efficient methods" and this makes sense given the time investment described above. The techniques that focus on relationship and value offering in broken link building, guest posting and blogger outreach are all seen as efficient, so marketers that focus on these can generate more links for their clients and their business.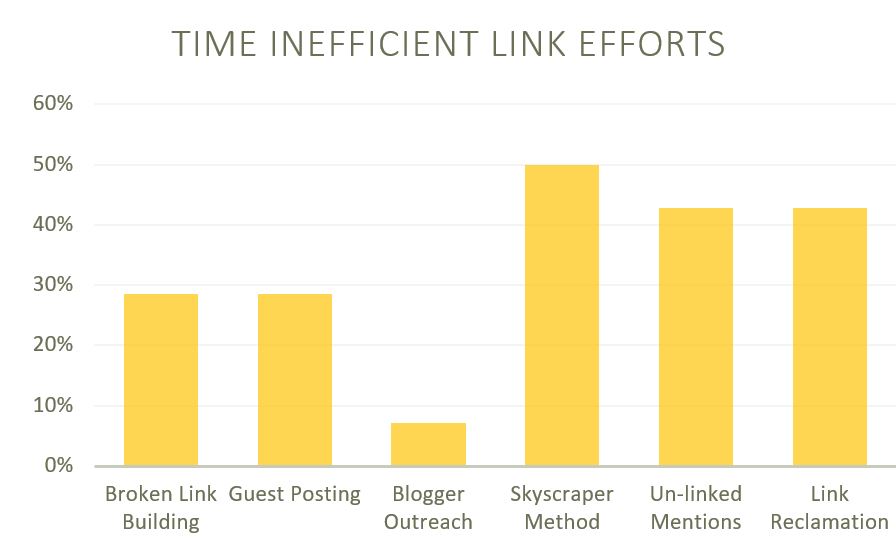 Which strategies should I use?
One way street link efforts like un-linked mentions and link reclamation that require a website owner to invest time out of their day to help marketers aren't likely to be great methods.
The focus for marketers looking to build links at scale is to develop good relationships with the websites that they want to earn links from. The availability of great SEO tools like Ahrefs, Pitchbox or BuzzSumo can speed up the identification and outreach process for top strategies like blogger outreach and guest posting. Providing great content can mean that these relationships, once established, can lead to repeat link opportunities across a range of websites.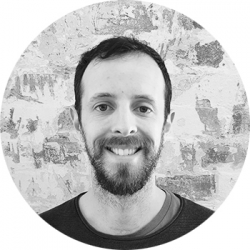 Latest posts by Kyle Douglas
(see all)