According to Econsultancy, live chat offers 73% customer satisfaction level (the highest from all other customer service channels) as compared to email (61%) and phone (44%).
If you're wondering why your ecommerce business needs a live-chat feature, a study by BoldChat found that 79% of users prefer this mode of customer service because of the quick response and 51% of users prefer live chat because it allows them to multitask.
Image 1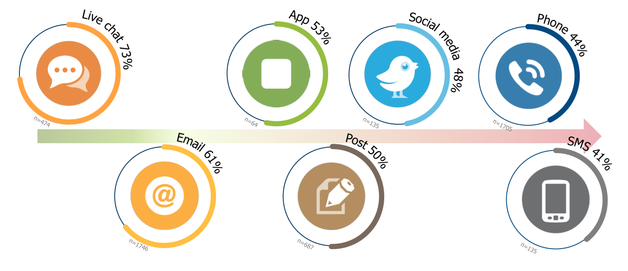 Image 2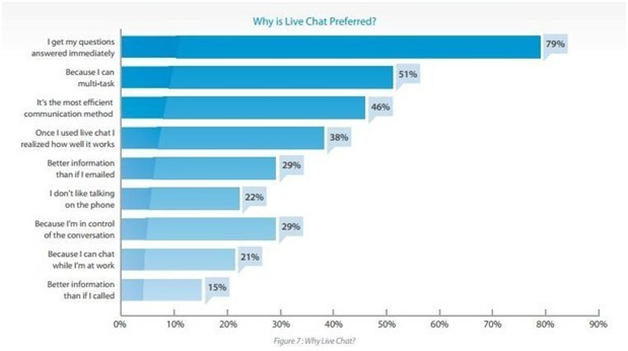 E-commerce websites are constantly on the lookout to enhance their customer experience. Before making a purchase, customers expect quick answer to their queries as calling or emailing becomes a time consuming process. This is where live chat emerges the hero. Millennial, when asked their preferred customer service method, 60% opted for live chat over a phone call to ask a question. While 40% said they prefer the no holds time from live chat, 30% said they use it for convenience.
Below are 6 ways in which live chat helps improve your ecommerce business.
#1. Live chat makes it more convenient for the customer
The result of a Forrester Research called "Making Proactive chat Work" found that "44% online consumers said that having their queries answered while making a purchase is the most effective feature a website offers".
The wait period a consumer has to undergo while making a call and navigating through the numerous options is eliminated with live chat.The customer can get assistance by live chat without having to leave the website to make a phone call, email or reach you by social media.
A survey by eMarketer found that 63% of customers were more likely to return to a e-commerce website offering live chat. 38% said they made the purchase because of the live chat. All these features made a greater impact on the buying decision of respondents who made at least one weekly purchase.
#2. Live chat cuts down phone expense and employee time
Your ecommerce website will cut down the following costs if they include live chat:
The call-center cost is reduced because the average interaction time on call is decreased.
A single employee can handle multiple chats at the same time, thus there is a deduction in the number of chat representatives hired.
This further increases the overall sales (as discussed in the next point).
#3. Live Chat boosts sales
According to Forrester's findings in a research report:
"When Wells Fargo included live chat on their website in 2008, it led to high level of customer satisfaction and double-digit increase in the number of converted customers."
The winning point here is that the customer can easily contact the representative in case of any queries to walk through the sale. This move alone can make or break a purchase. The bounce rate for your ecommerce website reduces ensuring that the shopping cart is not abandoned and customer makes it through the payment gateway.
Also, when the customer engages with employees who understand their requirements, they can also suggest additional products beneficial to the buyer.
#4. Live Chat makes you stand out among competition
Due to the overwhelming competition in the ecommerce industry, it has become critical to stand out from your competitors.
Live chat gives an E-commerce website the power to focus on every need and pain point of the customer, right from the time they visit your ecommerce website to the time they make a purchase payment. The customer experience is enhanced by offering value to the buyer at every stage.
Win over your competitors by offering live chat since the customer can directly communicate with the brand representative. Create a memorable and seamless experience for them and you'll build loyal customers. A study by Marketing Power found that customers using live chat are 3X more likely to make a purchase since they can directly interact with the brand execs.
Although majority of the customers prefer live chat on the purchasing website, not many brands have yet included it. This is the ripe time to integrate a live chat and dominate your industry.
#5. Live chat helps develop stronger customer relations
Every business needs customer retention. Loyal customers make more purchases, spread the work in their network, bring in more business and remain a paying customer for the product lifecycle.
A live chat facilitates building lifelong customer relations because it portrays that the company cares about the needs and inputs of the customer.
The digital landscape has made the customer the most important brand ambassador, making it vital to cater to their queries and requirements and take their input by live chat.
When the person from the company chats with the customer to answer their questions, greater loyalty and stronger customer relations are built.
#6. Live chat solves customer pain points
A pain point is the customers' frustration and an un-fulfilled need. Brands generally sieve (filter) through social media and customer emails to find the pain points. These pain points are solved by writing about it in a blog or article or addressed in advertisements. Brands use them as opportunities to convert into sales by addressing them.
Using live chat you can immediately solve the customer's pain points. This can also be used by customer care representatives to find out ways to improve the product or service and to find out the loopholes in the product.
Tips to make the live chat beneficial for your business
Live chat when executed properly is beneficial for your business. Follow these tips for maximum gain:
Train your live chat execs – Make them knowledgeable about the inventory and give them a FAQ so that they can answer the questions quickly.
Be online during the peak shopping hours – Determine when majority of your customers are online using analysis. Refrain from providing 9-5 chat, keep it round the clock
Gentle reminder about your social pages – Ask your chat representatives to gently remind the customers about your social pages and leave a pleasant comment if satisfied.
Author's Bio: Arpit is a content analyst at SoftwareSuggest.com. In his free time he likes traveling and reading novels.
Latest posts by Ayodeji Onibalusi
(see all)