Most marketers today understand that content marketing is important to driving sales to their business. However, there are only few marketers and writers in the industry that have the Greek god's power to command a wealth of content when they feel like. For many others, it's like going to the gym and not knowing how to start.
If you are a content writer and you consistently find yourself staring at a blank screen whenever you want to write a blog post, and ideas seem to be playing hide-and-seek with you, there are always a few places to seek the best ideas for killer content ideas your readers and search engines alike will love.
Here are sites you can go to whenever you feel like your creative juice has been exhausted.
#1. Hubspot Blog
You can say this is the perfect destination for the ideal inbound marketer seeking to refresh his/her tank of ideas and get a hold of what is happening in the marketing world. The blog is not run by the average bloggers you come across, they are highly experienced writers and high profile journalist.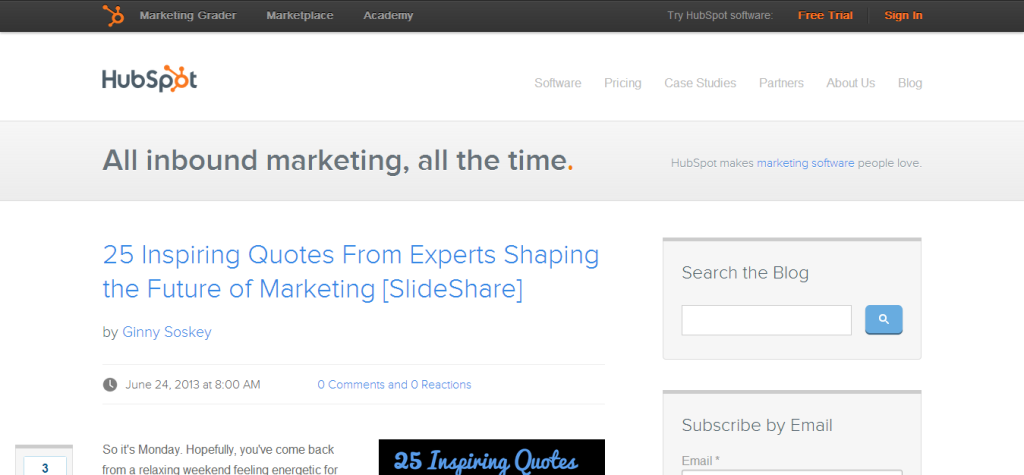 Don't forget the fact that the Hubspot blog is an award-winning blog. So you definitely want to trust whatever is coming out of the geniuses that run the site.
Not only is the Hubspot blog run by excellent writers themselves, the blog also features industry thought-leaders and influencers that rule the inbound marketing world.
Bonus: You can also learn how to create content that will make your blog rank well by following Hubspot's strategy on how to create blog posts.
Key Bloggers/ Corey Eridon-Hubspot Blog Manager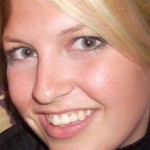 Image Credit
Business2Community is a popular community where professionals and business people share their best ideas about the business/marketing world. Top bloggers like Zac Johnson and several internet marketing thought leaders have used Business2Community to share their passion.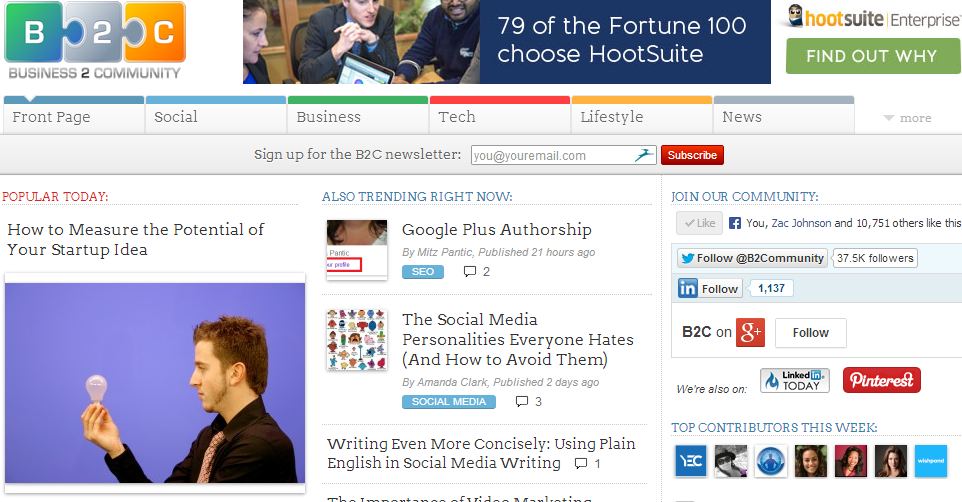 Business2Community encourages their readers to become contributors to the site, so you're sure to have a diversity of ideas for your next content on the site. I must tell you that the site is heavily regulated, so only high quality contents get to be published in case you're thinking of taking advantage of the opportunity to submit your blog post.
You can browse the site for different categories to find the best topic ideas that suits your blog most.
You can go ahead to read about Business2Community here.
#3. Scoop.it
Scoopit or Scoop.it is a content curation site that aggregates and distributes contents across the web. Depending on your curated topics, an option to select from which subject areas you want to see content from, you'll be able to see what others in your niche are talking/blogging about.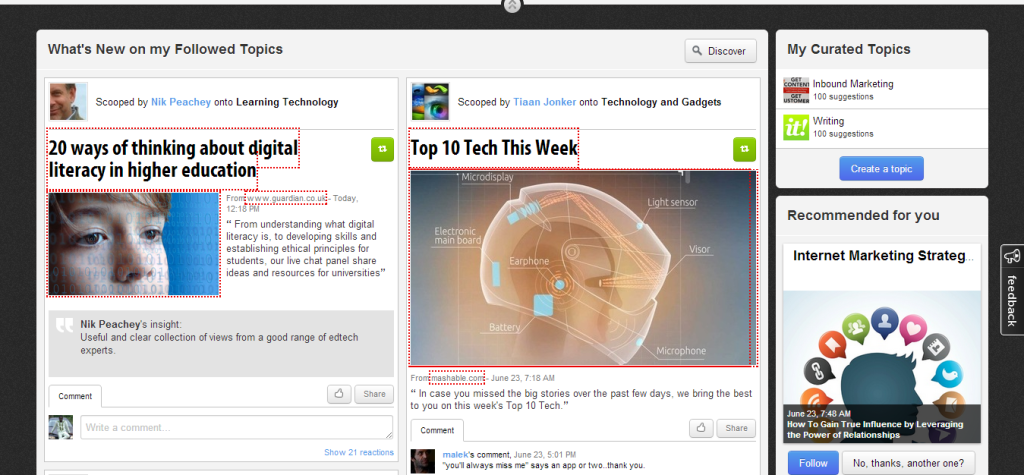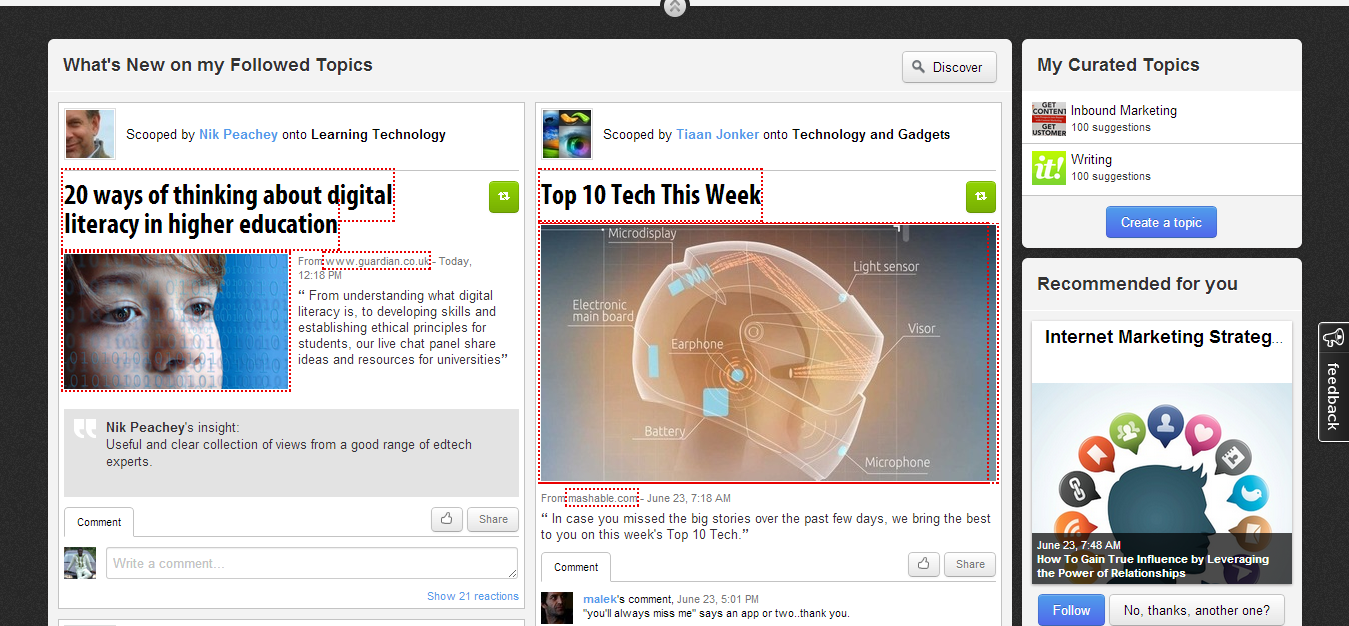 This can always give you fresh ideas on what to blog about on your blog and help you deliver latest happenings and content that matters to your audience. It only takes a few clicks to sign up for an account on Scoopit. You can either create a new account using your existing email address or just use your Facebook or Twitter account to create your new account.
After your account has been created, you'll get a notification email welcoming you to the services, after which you'll always receive  Scoop.it daily summary on your followed topics. When developing content for your blog, experts usually recommend using content curation sites to get ideas.
#4. Google News
Just as it's name already suggests, Google News is the news aggregation platform owned by Google. Google News brings a wide range of news from several media channels and established reputable blogs. When you're left with 100s of reads to choose from, Google News is your best choice.
Not only does the service brings more targeted news to you, a creative content marketer can easily draw ideas for new blog posts from the topics rendered. And if you want to trim the volume of news down to your specific needs, just do a search of important key-phrase you're interested in, and the results will be specifically tailored to suit your blog topic.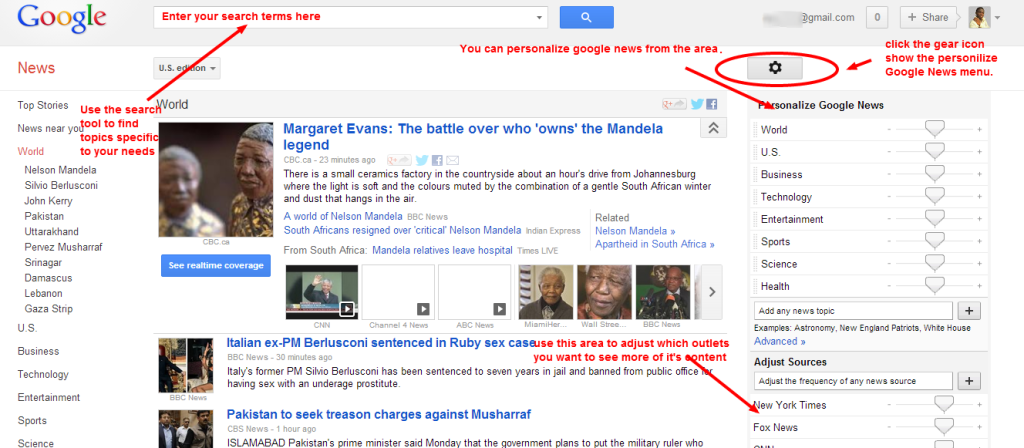 There are also features that lets you choose from which outlets you want the most contents to be displayed from on the top right side.
#5. Quora
Quora is an excellent go-to for the creative content marketer running out of ideas for blog post. How can a platform whose basic offering is providing answers to questions serve as a tool for content idea generation? Pretty much easy. The value in this is that Quora provides you with inspiration and exposure to ideas on what to blog about.

If you use Quora, you can follow topics specific to your niche. For example, by following #inbound-marketing, questions generated based on this topic can serve as an inspiration on what to blog about.
A good benefit of this is that the topic you're blogging about has already sparked interest among readers. So you'll be able to provide more dept and insight to the answers by covering it in a blog post.
Topics an internet marketing blog should follow:
Inbound marketing
Content Marketing
Penguin Update
Panda Update
#6. Your Google Analytics Stats
Have you ever explored your stats counter for deeper opportunities other than basic user demographics? Stats analytic tools like your Google analytics will show you keywords that brought traffic to your site. From those list of keywords, you can brainstorm blog post ideas and get inspiration for topics to blog on.
An added advantage to using your Google Analytics stats to find topics to blog about is the possibility of ranking higher for the particular keywords driving traffic to your site, thereby increasing traffic to your site.
If you create an interesting blog for your readers, they sure will always want more of you. A lot of the times, we miss opportunity to blog on what our readers want because we're not looking at their comments for ideas on what to blog about. Your blog comment section probably holds more ideas on what to blog about than anywhere else on the web.

What more, if you create a perfect blog post based on ideas fetched from the comments posted by your readers, you'll be killing two birds with one stone. You're creating an excellent blog post when you've already ran out of ideas and you're also giving your readers exactly what they want to read.
I know a lot of you reading this post will have more places to get ideas for topics to blog about. Please share your ideas with me in the comment below.
Latest posts by Ayodeji Onibalusi
(see all)